Jammers on the Net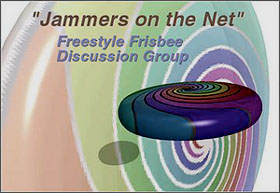 'Jammers on the Net' is an open mailing list serving the community of Freestyle Frisbee players & fans by keeping them up to date on news & events. It is also a used as a forum for discussions relating the growing sport of Freestyle Frisbee.
After years of being one of the coolest underground sports in America, Freestyle Frisbee is now growing very fast in Europe. In the past 3 years the number of freestyle events has doubled from 15 to 30 world wide and in Europe that number has grown from 3 events in 2002 to 13 in 2004.
To subscribe to 'Jammers on the Net', send an email to jammers_on_the_net-subscribe@yahoogroups.com
---
Euro Freestyle
The Euro Freestyle discussion group is for freestyle frisbee players living and traveling in Europe. It is an open discussion list where the posts will include tournament announcements and results and general discussion related to the new alternative sport of freestyle frisbee.
To subscribe to 'Euro Freestyle', send an email to eurofreestyle-subscribe@yahoogroups.com
For information about International Freestyle discussion groups, contact Tom Leitner