Greetings and salutations in the new year. It's time once again for the annual "Skippy Sez" awards. This exercise in verbiage in an excuse to give praise and honor the artful sport of Freestyle Disc Play. As has been mentioned many times before, there is a seemingly infinite variety of styles and approaches to the game. All are equal, valued and respected in these quarters. This article is not representative of views or perspectives of anyone other than myself. I sought thoughtful insight in my endeavor. 1998 was a season to remember for many reasons. There was an increase in the number of tournaments, new players were sprouting up around the world and new venues were reached. It has set the stage for 1999 to continue to spread the jam. Appreciation must be given to all who glued on nails, slicked a disc and spun the plastic over the past year. So without further ado...

MEN'S PLAYER OF THE YEAR:
This is getting to get a bit eerie. Each year we seem to see a totally dominating performance by one of the great players in our time. Last year was Dave Schiller. The year before was Larry Imperiale. For Dave Murphy it was only a matter of time. When it finally happened he did it in epic style. Murph has had more ups and downs than the roller coaster in Pacific Beach. For him, 1998 was a year to remember. I hope he has some spare room for all of the trophies he's collected. Seven wins, three 2nds, a 3rd and a 4th. 18 years of playing paid off. As is the case in all circumstances, no man (or woman) is an island. Murphy had strong partners as well as a skilled orthopedic surgeon to help in his cause. That said, you still have to walk the walk and that he did indeed.
Talk about potential realized. Cindy Kruger is radical. She is buffed out strong. Does hard move after hard move. Wants to death jam you into the ground. Has more moves in her back pocket than you do in your notebook. Considers a non slick disc only a challenge. Is fearless in the face of grumpy old judging panels. Let's take a moment to tip our caps to the incomparable Cindy Kruger. Look for her to continue her shredding ways in 1999. Honorable mention goes to Brenda Savage for her strong play and radical approach.

ROUTINE OF THE YEAR:
I as mentioned at the outset, freestyle is incredibly diverse. There are so many styles and approaches to the game. Perhaps that is it's greatest quality. Just when you think you've got them all figured out the Globe Trotters decide to take up jamming. Thanks to the creative imaginations and extraordinary style of Mark Blakemore and Greg Riley, we now have a new barometer of the absurd. The whacky wildmen of mirth debuted their Globetrotter routine at the Master's Overall in Santa Maria last summer to applause and rave reviews. The Globe Trotter World Tour also stopped off in Seattle to strut their stuff. Meadowlark Lemon never looked so good.

MOVE OF THE YEAR:
There are no clear cut favorites here so I'll try to do the right thing and list them all. Mark Blakemore's Spinning Gitosis Speedflow Catch in Masters and Seattle FPA's. Dave Schiller's 1 1/2 spinning standing gitis pullout off the throw into a radical consecutive combo. However, my nod goes to Tommy Leitner's triple spinning standing water gitis with the Military Jet synchro fly by 50 feet away, right on cue at Manresa Beach.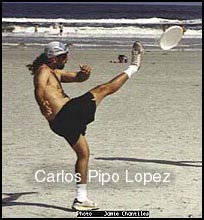 MOST TURBO:
Pipo Lopez isn't afraid of any hurricane. That alone warrants his inclusion in this the holiest of catagories. I don't know if I've ever seen him stop moving. Even when he's done jamming, he's looking around with an expression of "do you think he'll jam with me". For crying out loud, feed the man some more zee's and set your barometer for Storm Warning.

MOST FIRED UP:
I've needed to come up with a new category just to give Paul Kenney some ink. His infectious fun loving attitude permeates with jamosity. He went coast to coast several times just so he wouldn't miss a jam. All that work is paying off as his style is becoming more honed from the endless hours of jam sessions. Just being around him is enough to FIRE ME UP!.


ROOKIE OF THE YEAR:
Matt Gauthier gets the nod here. Just another recent phenom from the UFOS, Matt dominated the inaugural Collegiate Freestyle Championships at the US Open last summer. His sterling performance helped define a perfect "10" for the category. He topped this off with a splendid performance during the Indian Summer Tournament in his old back yard. Add his name to the list of champions of that tournament. Johnny Jewell, Matt Roberts and Corey Basso just to name a few.

COMEBACK OF THE YEAR:
Reuse, Recycle, Rehab. I think that was Jamie Chantiles mantra in the last couple of years. After a couple of devastating injuries, Jamie worked hard and long at a come back. Fueled by his passion for spin, the man could not be denied.

MOST UNDERRATED:
To all who've seen and jammed with Toddy Broduer this may not come as a surprise. After all, he's been doing the same kind of thing for a long time. Cool rim and center work. Tricky catches. Solid wind game. Good Co-op work. The thing is, he goes relatively unnoticed when he ventures out to some of the high profile tourneys. Let it no longer be a surprise, he is a consummate crafty old pro. Take some extra time to appreciate what he does. He's one of a kind.

TOURNAMENT OF THE YEAR:
There were many tourneys that would complement the concept of great tourneys, but only one stands out above the rest. Once again, our friends in the Emerald City have pulled off a great show. Grand Kudos to Mary Jorgenson, Randy Silvey, Lisa Hunrichs and the many others who helped run the FPA Worlds in Seattle. Each year they improve on the last. The gentle breezes coming off of Green Lake, the bust-a-move style of the Northwest and the hoppy aroma wafting from the Latona tavern add to the mystique and legend of the game.

GURU SHREDMASTER AWARD:
This is another new award I'm debuting this year. It's time acknowledge Mary Jorgenson and her many years of dedicated service, unmatched enthusiasm and positive mojo. It is impossible to list all of the deeds Mary has endeavored upon during her career. I think everyone would agree that Mary has indeed made this a better place for us all. Next time you see her, just say a simple "Thanks Mary".