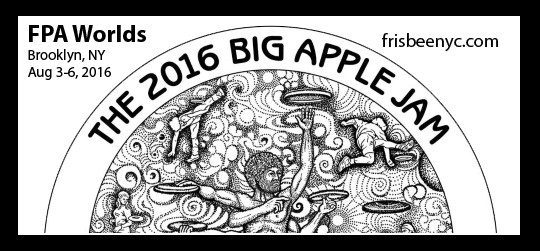 The FPA World Championships took place Aug 3-6 in Brooklyn, New York with the finals on Saturday August 6th at Erasmus High School in Brooklyn.


---
Event Results:
Congrats to the 2016 FPW World Champs:
Open Pairs: Tom Leitner / Christain Lamred
Womens Pairs: Lori Daniels / Amy Schiller
Mixed Pairs: Matt Gauthier / Lisa Hunrichs
Co-op: Florian Hess / Christain Lamred / Alex Leist



The FPA Worlds in NYC was a big success as over 80 players from 10 countries competed... Christain Lamred won 2 world titles as he and partner Tom Leitner won pairs and the all-German team of Christian, Florian Hess and Alex Leist won co-op. Becoming the first open division German World Champs. In the women's Lori Daniels and Amy Schiller took the title with Matt Gauthier and Lisa Hunrichs defending their mixed title. New York, NY US (Aug 3-6, 2016)

Hall of Fame ceremony at the FPA Worlds in NYC brings tears and smiles to inductees and fans. Honorees John "Z" Weyand, Dan "Stork" Roddick, Dave Marini, Jens and Erwin Velasquez, Krae Van Sickle, Jeff Felberbaum, Kerry Kollmar and Mikael Hjartsjo received induction plaques and spoke about what the induction and the sport means to each of them. Brooklyn, NY US (Aug 6, 2016)

Mehrdad Hosseinian and Freddy Finner took 1st at the 2016 SandSlash event in Debki, Poland (Aug 19, 2016)

Pavel Baranyk / Jakub Kostel beat a dropless routine by Larry Imperiale / Bill Wright to become the first European team to win the open freestyle division at the US Open. Santa Cruz, CA US (July 8-10, 2016)

Jakob Gauthier / Randy Silvey went dropless to beat out Jakub Kostel / Matt Gauthier to win the Potlatch freestyle event in Redmond, WA US (July 2-3, 2016)
Tom Leitner / Freddy Finner beat out Harold and Jessica Skomroch to win the AmsterJam event at Zandvoort Beach near Amstertdam, NL (June 24-25, 2016)
James Wiseman / Daniel O'Neill won pair and Lori Daniels / Dave Murphy won mixed at 'the Jammers' in Jacksonville Beach, Fl US (May 21-22, 2016)
Christian Lamred / Robert Dittrich won pairs, Sascha Hohne / Bianca Strunz won mixed and Christian Lamred / Flo Hess / Alex Leist won co-op at the German Championships in Munster, Germany (May 13-14, 2016)
Daniel O'Neill / James Wiseman edged out Jake Gauthier / Ryan Young to win the 40th annual Virginia States. Fredericksburg, VA US (April 15-16, 2016)
Tom Leitner / Daniel O'neil won pairs and Tom Leitner / Fabio Nizzo / Marco Prati won co-op with Marco Prati also winning the Super Pro shred at the Paganello Freestyle Challenge. Rimini, Italy (March 26-27, 2016)
80 players competed at the the 10th annual Frisbeer Cup Randy Silvey / Ryan Young won pairs, Christian Lamred / Flo Hess / Alex Leist won co-op and Randy Silvey / Ilka Simon won mixed. () It was the largest non-worlds indoor event ever!
Antonio Piccio Cusma' / Marco Prati won pairs, Alex Leist / Florian Hess / Fabio Sanna won co-op and Jakub Kostel / Ilka Simon won mixed at the European Freestyle Open in Biblione, Italy (Apr 29-May 1, 2016)
Ayal Benin / Mattia Colombari won the Udine Freestyle contest in Udine, Italy (June 11, 2016)
---