The FPA World Championships will take place Aug 3-6 in Brooklyn, New York with the finals on Saturday August 6th in McLaughlin Park, Brooklyn. frisbeenyc.com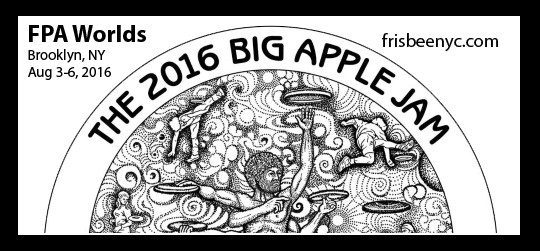 ---
Event Results:
Congrats to the 2015 FPW World Champs:
Open Pairs: Paul Kenny / Mehrdad Hosseinian
Womens Pairs: Lisa Hunrichs / Emma Kahle
Mixed Pairs: Matt Gauthier / Lisa Hunrichs
Co-op: Paul Kenny / Balu Major / Marco Prati



Pavel Baranyk / Jakub Kostel beat a dropless routine by Larry Imperiale / Bill Wright to become the first European team to win the open freestyle division at the US Open. Santa Cruz, CA US (July 8-10, 2016)

Jakob Gauthier / Randy Silvey went dropless to beat out Jakub Kostel / Matt Gauthier to win the Potlatch freestyle event in Redmond, WA US (July 2-3, 2016)

Tom Leitner / Freddy Finner beat out Harold and Jessica Skomroch to win the AmsterJam event at Zandvoort Beach near Amstertdam, NL (June 24-25, 2016)

James Wiseman / Daniel O'Neill won pair and Lori Daniels / Dave Murphy won mixed at 'the Jammers' in Jacksonville Beach, Fl US (May 21-22, 2016)

Christian Lamred / Robert Dittrich won pairs, Sascha Hohne / Bianca Strunz won mixed and Christian Lamred / Flo Hess / Alex Leist won co-op at the German Championships in Munster, Germany (May 13-14, 2016)

Daniel O'Neill / James Wiseman edged out Jake Gauthier / Ryan Young to win the 40th annual Virginia States. Fredericksburg, VA US (April 15-16, 2016)

Tom Leitner / Daniel O'neil won pairs and Tom Leitner / Fabio Nizzo / Marco Prati won co-op with Marco Prati also winning the Super Pro shred at the Paganello Freestyle Challenge. Rimini, Italy (March 26-27, 2016)
80 players competed at the the 10th annual Frisbeer Cup Randy Silvey / Ryan Young won pairs, Christian Lamred / Flo Hess / Alex Leist won co-op and Randy Silvey / Ilka Simon won mixed. () It was the largest non-worlds indoor event ever!
Antonio Piccio Cusma' / Marco Prati won pairs, Alex Leist / Florian Hess / Fabio Sanna won co-op and Jakub Kostel / Ilka Simon won mixed at the European Freestyle Open in Biblione, Italy (Apr 29-May 1, 2016)
Ayal Benin / Mattia Colombari won the Udine Freestyle contest in Udine, Italy (June 11, 2016)
---