The 2022 FPA World Championships
will happen in Milan, Italy at the 'Frisbee Temple' Sept 21-24, 2022. See the facebook event page for details...
https://www.facebook.com/events/1396455147534085

Freddy Finner and Tom Leitner edged out Clay Collera' and Paul Kenny to win the 20th AmsterJam on Zandvoort Beach, NL (July 17, 2022)
Tom Leitner, Kuba Radwanska and Francesco Santolin won co-op and Fabio Nizzo and Federica Proietti won mixed at the 1st Anzio Spring Jam (May 14-15, 2022)
Dario Giusti and Andrea Izzo won pairs and Harry and Jessie Skomrock won mixed at the 2022 Paganello Freestyle Challenge in Rimini, Italy. (April, 2022) See the Review and Results
At the 2022 Frisbeer Cup...
Bianca Kostelova' won 3 divisions (Women's with Char Powel, Mixed with James Wiseman and 'Best Move'). Edo Turri / Andrea Festi won Open pairs and Edo, James and Daniel O'Neill won the co-op with Daniel also winning the 'Best Move' battle. Prague, Czech (Feb 26-27, 2022)
Flying Disc Youth Win Gold and Silver Medals at the UTS World Virtual Youth Festival Jennifer Richner, Felix Gerwin and Kuno Jordi of Switzerland who were awarded Silver in the U18 Talent division and to Tom Rohrer and Joya Richner of Switzerland for earning the Gold medal in the U14 division.
https://www.facebook.com/100057997334681/videos/447136800112443/

---
Featured Videos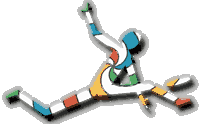 The Freestyle Frisbee Page - 'spreading the jam' since 1995!

Site maintained by Tom Leitner ( Contact Tom )

Frisbee is a brand name and registered trademark of Wham-O Inc. This site has no affiliation with Wham-O, Inc. ...